World's Most popular HVAC UV Light
Blue-Tube UV is the single most popular germicidal UV light product for HVAC systems in the world. Home owners breathe easy knowing that the air their family breathes is protected by this proven technology. Blue-Tube UV is the simple, safe, and effective way to keep your air system clean and improve indoor air quality.
How Blue-Tube UV® Works
Blue-Tube UV is installed in the central air system where it works continuously to fight mold and other biological contaminants in the air and on HVAC system interior surfaces, particularly the cooling coil. For over a century scientists have known that certain frequencies of light have a devastating effect on microbial life. We now know that exposure to ultraviolet light in the range of 254 NM (UV-C band) disrupts the DNA of micro-organisms thus preventing them from reproducing, thereby effectively killing them.
APCO-X
Introducing our most advanced whole-house air treatment system yet. APCO-X is the result of ten years of APCO development. It will revolutionize indoor air quality with significantly improved performance, functionality, and reliability.
• 33% more effective than previous model in laboratory tests
• V-Twin element with over 65% more effective carbon surface area
• EverCarbon™ cells with proprietary antimicrobial  nanotechnology
• 3 year UV-C lamp
• LED status and lamp fault indicator
• Translucent polycarbonate housing
• Face-plate rotates for vertical or horizontal installation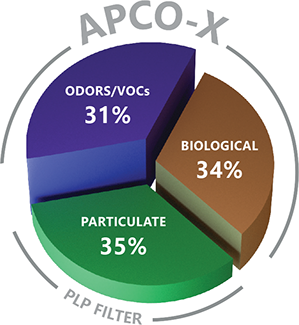 The Other Two Thirds
APCO-X combines UV-C light and our proprietary EverCarbon™ cells to safely reduce odor-causing VOCs and biological contaminants. For the remaining third (particulates) consider adding a Fresh-Aire UV Purity Low Profile polarized HVAC filter.
Validated Ozone Free
Fresh-Aire UV APCO is the first UV/PCO based air purification product line to achieve the UL  environmental claim validation (UL-2998) which identifies air purification systems that emits zero ozone. They are then listed in the UL SPOT database of sustainable products